On May 7, 2015, Kathryn (Katie) Barnhart successfully defended her dissertation, adding a PhD to her MPH! This fall, Dr. Barnhart will being in her position as an Assistant Professor in the Department of Public Health at Grand Valley State University, a new public health program in Grand Rapids, Michigan. There, Dr. Barnhart will have the opportunity to establish community-academic partnerships, mentor MPH students, and continue to make connections between public health and harm reduction in research and practice, as she has done throughout her time at the Center for Sexual Health Promotion, in the booming and rapidly expanding health professions community in West Michigan (including the new Van Andel Research Institute, Michigan State University College of Human Medicine, and a wide range of other recent developments).
Prior to pursuing her Ph.D. in Health Behavior from the School of Public Health-Bloomington, Katie received her MPH in Behavioral Science and Health Education from St. Louis University. She also has practice-based experience as a prevention coordinator at an AIDS service organization. There, she was able to work with a variety of populations and design and implement a number of programs, including the first syringe exchange, harm reduction, and overdose prevention program in Southern Illinois. When it came time to solidify her dissertation topic, she knew she wanted to combine her past experiences as a public health practitioner with the skills she gained as a researcher at the Center for Sexual Health Promotion.
For her dissertation study, Katie partnered with the harm reduction program she helped to establish in 2009. The dissertation study utilized multiple methods to explore individual and interpersonal level characteristics of women's sexual and injection drug use behaviors. The findings from her study have the potential to help shape organizational policies, serving the women directly who volunteered their information and stories to the research project, as well as sexual health and harm reduction practices and policies at higher levels. Katie's plans to disseminate information back to the community partner this summer and discuss plans for implementing the outcomes in practice. She describes her dissertation as a reminder of the "bigger picture," which reinforced her commitment to social justice in public health. Katie joins a long and distinguished list of CSHP alumni who are actively moving forward in their scientific careers in a wide range of academic and community-based institutions, including Indiana University, Columbia University, University of Texas, Princeton University, California State University, and others throughout the country and around the world.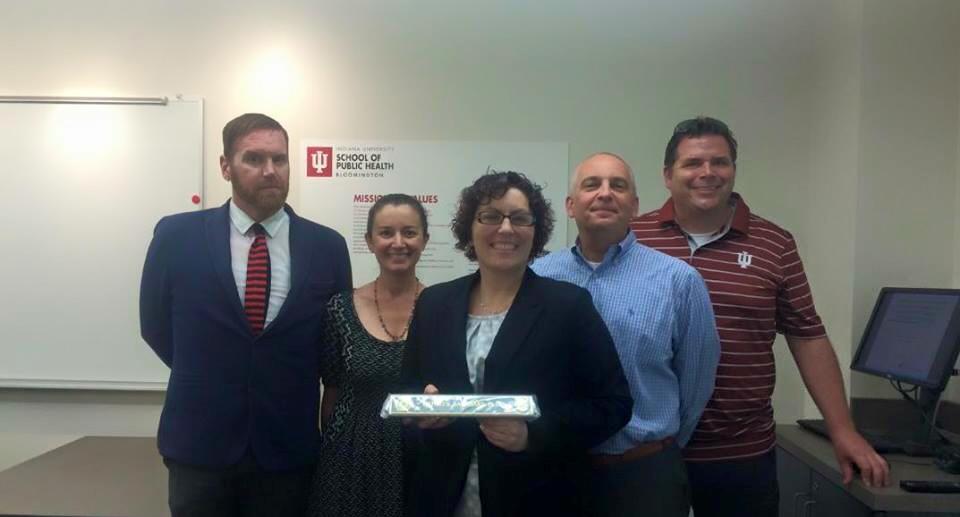 Erika's doctoral research committee included (left to right): Drs. Aaron Sayegh, Debby Herbenick, Michael Reece (Chair), and Brian Dodge.